Stablemaster Stalls
At Stablemaster's manufacturing facility we fabricate each stall panel to the specific size and configuration needed. We have the ability to build whatever size panel is nessary as well as making that panel solid, full grilled, 2/3 grilled, top-to-bottom grilled, swinging, with waterer cut-out, etc.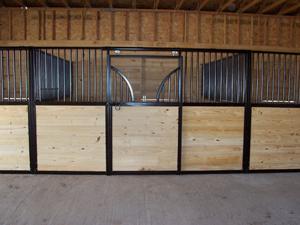 Stall Image 003

Click on images to see larger view.
Stall Images 004 and 005
Choose from:
Standard Styles
Euro Styles
Swept Fronts
Arched Grills
Swing Tops
Mesh Fronts and Doors
Twisted Picket Grills
and Custom Designs and Styles
Stall Images 006 and 007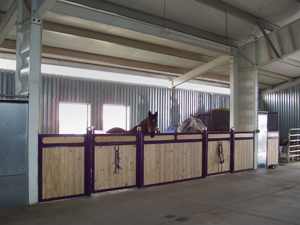 Stall Image 008
Stall Front: Stall fronts can be made any length up to 24' long. Standard height is 7' but we can adjust as necessary. The door included is a 48"-wide sliding door. The door can be placed at either end or in the middle of the stall. Front comes standard with 2" x 8" Southern Yellow Pine (SYP) tongue-and-groove lumber. The wood can be placed vertically or horizontally depending on customer preference. We can also provide frame only if customer prefers to install their own wood.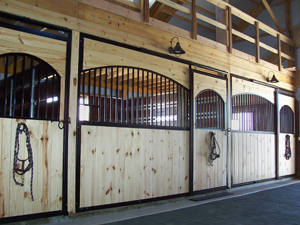 Stall Images 009
Stall Image 010
We offer three standard paint colors:
Forest Green
Semi-Gloss Black
Dark Brown
Custom colors for additional charge
Stall Images 011 and 012
Stall Images 013 and 014
Click here for more photos of our stalls.

Feeders: Feeders can be added as desired.




Drop-front, Swing-top, or Open Yoke: a drop-front, swing-top panel, or open yoke in the door can be added to allow horses to stick their head out through the stall door.


Full Grill Doors: to improve ventilation inside stalls. These doors have no wood. They have grill bars spaced 2" on center in the bottom section of the door and spaced 4" on center in the top section. This door has a piece of plate steel 6" tall across the bottom of the door to hold bedding inside the stall.
Click here to see more of our stalls.


Dividers
Solid dividers: made with 1 1/2" square tubing and 2" x 8" SYP.

Grilled dividers: bottom 4' of panel is solid wood and top 3' has 1" round bars spaced 4" on center.

2/3 grilled dividers: have a 4' section that is solid wood and a 8' section with grill bars. This provides an area where horses can be out of the line of sight from other horses and is also good to have between feeders to avoid conflicts at feeding areas.

Top to Bottom Grilled dividers: provide the ultimate in ventilation. These dividers are built with 1 1/2" 14-gauge bars on 2" centers from the bottom of the panel up 4' and 4" on center to the top of the panel.

Swinging dividers: most of our dividers can be hinged to swing flush to the backwall to create a foaling or recovery stall.

Waterer cut-outs: can be added to almost any divider to allow sharing of waterers or tanks.
Tie-stall dividers: are also available.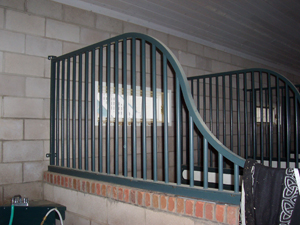 Stall Image 016

Exterior Doors
Also see our Exterior Barn Doors.